Well today was the big appointment at the Design Centre. I didn't get a wink of sleep last night (OK...I'm exaggerating a little, but I swear I woke up and looked at the clock every hour!) I stuck to my guns pretty much on not going overboard on upgrades and everything is very neutral in colour.
Here are a few pics from my final choices...the full album is available on my Facebook account.
Kitchen cabinet in Maple "Wild Apple" - yes, I upgraded from the basic line. (thanks for your feedback Monette!)
Counter top in Tuscan Marble.
Floor tile - Corte Milia Silver.
Kitchen cabinets, counter top and main floor floor-tiles again.
Bathroom cabinet Vermont Classic in natural Maple.
Counter top in Poritico Marble.
Floor and wall tile in New Albatroz Grey.
Brushed chrome handle (closest to cabinet door).
Yep, bathroom again. I steered clear of coloured tiles because I don't want to be restricted decor-wise and the patterned tiles and borders go out of vogue so very quckly.
Broadloom 35 oz (yes, I got the upgraded under pad) next to the floor tile. No the carpet isn't pink...just photographs that way. OK...here's a better shot of the carpet. Bottom row centre.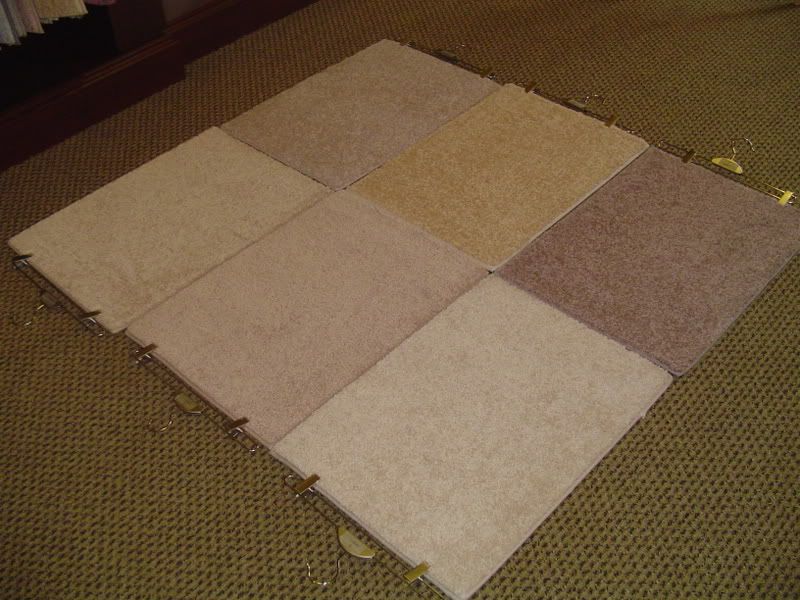 The bedroom en suite upgrade was ordered, a rough in 3 piece bath in the basement, and a couple of extra cable jack rough-ins ...and presto! We're done!
Now I just have to wait for them to build it! Here's a shot of the site from yesterday....
A shot I lovingly call "Men @ Work"....and now I can't get that song from the 80's out of my head! Arghhhh!